MEDITATION CERTIFICATION PROGRAM HIGHLIGHTS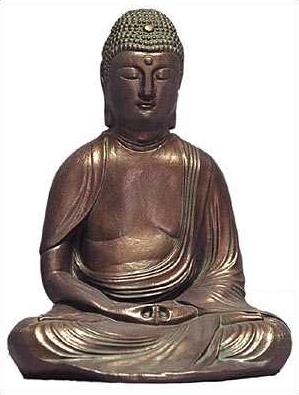 You Decide How Much to Pay

15 Superb 5 Star Rated Videos

53 Comprehensive Chapters

300+ Pages of Clear Teachings

The Best Online Meditation Teacher's Training Course
ALSO FOR YOU FREE BONUS GIFTS AND SAMPLE VIDEOS BELOW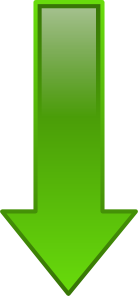 MEDITATION CERTIFICATION PROGRAM OBJECTIVES
This training program is comprehensive. No secrets, wisdom or knowledge is withheld. In addition to learning the profound art of meditation, you will also be taught Yoga and Pranayama, as well as the practical wisdom on how to run a successful meditation center and create a high traffic meditation website. Here is some of what the program teaches you.
Learn Basic Meditation Techniques

Learn Advanced Meditation Techniques

Learn Gentle Yoga

Learn Pranayama (Yoga Breathing Exercises)

Learn the Fundamentals of Enlightened Living

Learn How to Teach a Meditation Class

Learn How to Run a Successful Meditation Center

Learn How to Build a High Traffic Meditation Website

Help Spread the Light and Uplift the World

Earn a Good Living
SAMPLE MEDITATION TRAINING VIDEOS
Here are 3 of the 15 videos that are part of this training program.
You will find many more videos and articles of mine on my YouTube channel and website, and here are those links for you to review.
AnmolMehta.Com - Mastery of Meditation and Yoga Website
Om Mantra Meditation Video
Zen Meditation Technique Video
Kapalbhati Yoga Breathing Exercise
BONUS GIFT #1
Amazing Insights E-book

With over 1,000 download, this is my most popular product and I really want you to have it if you plan on being a meditation teacher. This is because, Amazing Insights will answer for you the most difficult questions regarding life and Reality. Important truths about Enlightnement, Purpose, Meaning, Knowledge, Destiny, Karma, Relationships, Reincarnation and more are revealed in this book.
Amazing Insights E-Book Testimonials
MORE FREE GIFTS BELOW AS WELL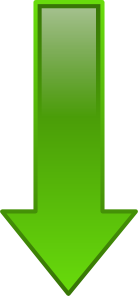 WHY JOIN THIS MEDITATION CERTIFICATION PROGRAM
This is a fully online multi-media home study course to train you in the profound art of meditation, and make you capable of training others as well. Today there is no greater need than spiritual teachers and guides, and there is no greater calling either. This program is designed to help you become a master meditator and raise your level of consciousness, and also, to teach you how to help others do the same. This program fulfills my vision to create great teachers to spread the light of wisdom and Truth and it is my deepest pleasure and honor to offer it to you all.

In this program, I do not withhold any wisdom or knowledge. In fact, you have full access to 90% of the course material even before you sign up. Here is the link to the material that the course consists of - Mastery of Meditation Teacher's Training Material.
In this program, I will not just teach you all there is to know about meditation, yoga for meditation and pranayama, but I will also share with you all the industry secrets on how to run a successful meditation center and a high traffic yoga and meditation website. This will let you earn a living, while walking this noblest of paths.


HOW THE MEDITATION TEACHER'S TRAINING PROGRAM WORKS
This is comprehensive self-study mutli-media course, which has taken 3 years to develop. Here are the highlights of how the program works.
Duration: Program is designed for 8 weeks, although you can take more or less time as required. The program is designed to let you go at your own pace. If you are a proficient meditator you can finish the program faster.


Support: You get full email support from me. I have created this program and am the author of Mastery of Meditation and Yoga, one of the largest and most popular yoga and meditation portals on the internet.


Material: Program material is available immediately for download upon registering, as well as online.


Examination: Upon completion you take an open book take home exam. Upon passing it you receive a signed cirtificate from me and Mastery of Meditation and Yoga, certifying you to teach meditation, as well as gentle yoga and pranayama. If you fail the exam you get to try again till you pass.

BONUS GIFT #2
Consciousness Expanding Guided Meditation MP3

I am certain once you complete the Meditation Certification Program, you will not just be a great teacher, but you will also have the necessary skills to create transformational products, such as this Mind Expanding Guided Meditation. You will understand deeply how profound the method that was used to create this meditaiton truly is, and you will be able to apply such wisdom in creative ways of your own. In this way, your creations will then help to spread the light and raise the level of human consciousness. This meditation reveals your Higher Self to you.
Consciousness Expanding Meditation Testimonials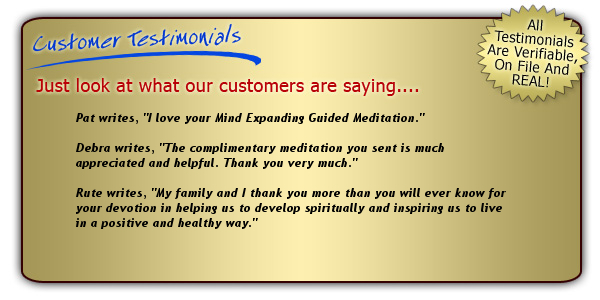 WHAT YOU GET UPON COMPLETING THE PROGRAM
1. Meditation Teacher Certification:
At the end of completing the course successfully you will receive a signed certification from Anmol Mehta and Mastery of Meditation and Yoga, indicating you have passed the Mastery of Meditation Teacher's Training Program and are fully certified to teach both basic and advanced Meditation. This includes teaching Yoga and Pranayama for Meditation as well.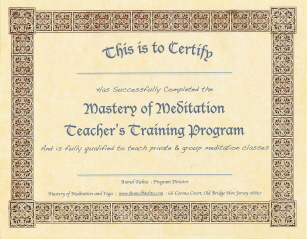 2. Online Web Listing on Mastery Meditation and Yoga:
Being compiled is a list of certified Mastery of Meditation Qualified Teachers and Centers. You and your meditation center, will be listed there and if you have a website, you will receive a link to it as well. I will also rigorously use the Mastery of Meditation and Yoga website to promote you, your classes and your studio.
HOW TO PAY AND REGISTER FOR THE CERTIFICATION PROGRAM

Fees:

I was shocked to see some of the fees being charged for various meditation certification around the globe today. It makes me wonder if these "institutions" are really interested in spreading the light of meditation or in making money. Some programs are charging nearly $10,000, and some even more! That stops here. As you know Mastery of Meditation and Yoga, now one of the largest meditation and yoga websites on the web, is 100% free. That should make it quite clear what my interest and passion truly is.

You decide how to much to pay for the training program, based on the three options below. If you can afford it, you can pay $101, if you cannot, you can choose to pay $51 or $21. The program is the SAME regardless of how much you can pay, I just want to make sure that under no circumstances should money prevent you from walking this path. The only difference is that those who have paid the higher amount have their personal and studios listed higher on the Mastery of Meditation Teacher's Page.

If you are still unable to pay any of those amounts please contact me and we will work out some other arrangement.


100% Money Back Gurantee:

This program, like all my products, comes with a 100% money back no questions asked gurantee. There is absolutely no risk to you. Just FYI, so far I have had to give back a total of zero refunds :-).


How to Pay:

I use PayPal to process the online payments. This makes the payment method 100% secure and you are protected by PayPal as well. You can pay via credit card WITHOUT joining PayPal as well. If you prefer to pay by check, instructions for that are further down as well.


Important Please Note:

Upon payment you will receive an email with a confirmation link in it. Please click that link as it will then take you to the download page for the additional materials, free gifts and instructions you need for the training program. If you have any questions please feel free to email me at anmol@anmolmehta.com.
TO REGISTER CHOOSE YOUR PRICE THEN

CLICK BUY NOW BUTTON BELOW
For a Limited Time Only - You Get the 2 Bonus Gifts Valued at $34 for FREE!
100% Secure Shopping AND 100% Money Back Gurantee
Please Note: You will receive a confirmation email after you pay, please CLICK the link in that email to be taken to the download page for your free gifts, the program material and instructions for the program.
TO PAY BY CHECK
Make check out to:
Anmol Mehta
Send check to:
Anmol Mehta
66 Corona Court
Old Bridge, New Jersey 08857
USA
Then EMAIL Anmol: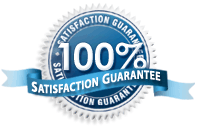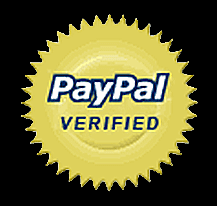 For any issues or questions please do not hesitate to contact me at anmol@anmolmehta.com.
Do join us and wishing you the very best on your journey back to the Source.


THANK YOU AND GOD BLESS YOU